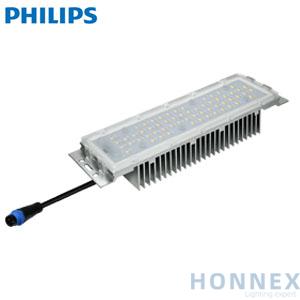 PHILIPS Fortimo FastFlex IP 10KLM 757 25D 929002814580
Fortimo FastFlex IP 10KLM 757 25D
Fortimo FastFlex IP UHE is an integrated module solution with IP66 protection,
excellent optical and heat management that offers high energy efficacy (greater
than 160 lumens per watt) and high quality of light. Fortimo FastFlex IP UHE
products are designed to enable optimum LED lighting in Outdoor - streets and
roads - applications. A range of compatible IP67 Xitanium drivers complement these
modules to further differentiate your lighting solution on efficacy, lifetime and robustness
under extreme temperature conditions.
Product data


Overall length: 300 mm
Overall width: 70 mm
Overall height: 63 mm
Approbation: CQC,CB, KC
Operating Tempreature range: -30 - 50 ℃
Initial color accuracy: 5 SDCM
Ingress protection code: IP66
Insulation class: Class I
Initial luminous flux (system flux): 10000 lm
Net Weight (Piece): 0.750 kg
Picture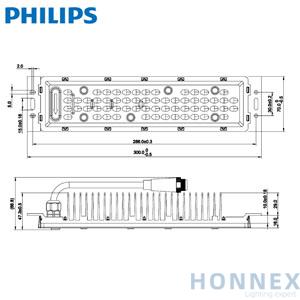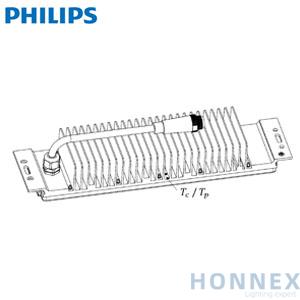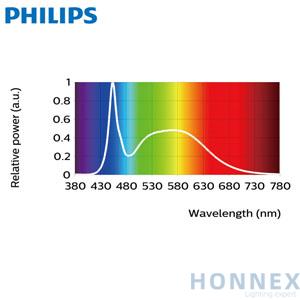 Remarks


PHILIPS Fortimo FastFlex IP :
PHILIPS Fortimo FastFlex IP 6KLM 730 II-S 929001427780
PHILIPS Fortimo FastFlex IP 6KLM 730 II-M 929001427880
PHILIPS Fortimo FastFlex IP 6KLM 730 III-S 929001427980
PHILIPS Fortimo FastFlex IP 6KLM 730 III-M 929001428080
PHILIPS Fortimo FastFlex IP 6KLM 740 II-S 929001428180
PHILIPS Fortimo FastFlex IP 6KLM 740 II-M 929001428280
PHILIPS Fortimo FastFlex IP 6KLM 740 III-S 929001428380
PHILIPS Fortimo FastFlex IP 6KLM 740 III-M 929001428480
PHILIPS Fortimo FastFlex IP 6KLM 757 II-S 929001428580
PHILIPS Fortimo FastFlex IP 6KLM 757 II-M 929001428680
PHILIPS Fortimo FastFlex IP 6KLM 757 III-S 929001428780
PHILIPS Fortimo FastFlex IP 6KLM 757 III-M 929001428880
PHILIPS Fortimo FastFlex IP 6KLM 840 HB-60 929001428980
PHILIPS Fortimo FastFlex IP 6KLM 840 HB-90 929001429080
PHILIPS Fortimo FastFlex IP 6KLM 857 HB-60 929001429180
PHILIPS Fortimo FastFlex IP 6KLM 857 HB-90 929001429280
PHILIPS Fortimo FastFlex IP 10KLM 740 25D 929002814480
PHILIPS Fortimo FastFlex IP 10KLM 757 25D 929002814580
PHILIPS Fortimo FastFlex IP 6.5KLM 740 12D 929002814680
PHILIPS Fortimo FastFlex IP 6.5KLM 757 12D 929002814780