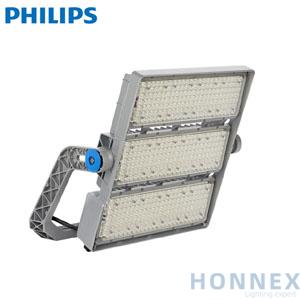 PHILIPS BVP428 C LED1480/957 1340W S8 BV 911401614007
BVP428 C LED1480/957 1340W S8 BV
The Philips ArenaVision LED floodlighting system is an innovative LED
pitchlightingsolution supporting the latest TV broadcasting standards.
Designed exclusively forsports and multi-purpose venues, ArenaVision LED
offers outstanding light quality,effective thermal management, and long lifetime. ;
When combined with controlapplications such as the InteractSports lighting management
system, ArenaVisionLED can simplify the delivery of the right illumination by scheduling or
through realtimeadjustments and can be used to create customized light shows before, during
and after the main event.;To ensure optimized use for both indoor and outdoorapplications,
the floodlight range includes two single piece pressure die cast housingversions, hosting 2 and
3 LED engines respectively. These versions also function withan external driver box – separate
for use at a distance from the floodlight (BVversion), or pre-fixed onto the mounting bracket of
the floodlight (HGB version). Thisexternal driver box ensures ease of installation and lower initial cost.
Product data


Overall length: 737 mm
Overall width: 695 mm

Overall height: 434 mm

Color: Aluminum and RAL
Ingress protection code: IP66
Mech. impact protection code: IK08
Ambient temperature range: -40 to +50 °C
Initial LED luminaire efficacy: 110 lm/W
Net Weight (Piece): 31.600 kg
Picture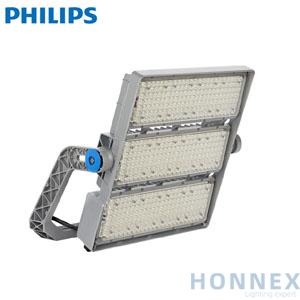 Remarks


PHILIPS BVP428 :
PHILIPS BVP428 C LED1480/957 1340W S8 BV 911401614007
PHILIPS BVP428 C LED1480/957 1340W S7 BV 911401613907
PHILIPS BVP428 C LED1480/957 1340W S6 BV 911401613807
PHILIPS BVP428 C LED1480/957 1340W S5 BV 911401613707
PHILIPS BVP428 C LED1480/957 1340W S4 BV 911401613607
PHILIPS BVP428 C LED1480/957 1340W S3 BV 911401613507
PHILIPS BVP428 C LED1480/957 1340W S2 BV 911401613407