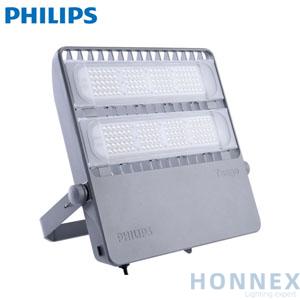 PHILIPS BVP382 LED156/CW 120W 220-240V AMB 911401614905
BVP382 LED156/CW 120W 220-240V AMB
The energy-saving Philips Tango G3 LED Floodlight is the ideal solution for a wide
range of Area lighting applications. It incorporates the LED light source, optical system,
heat sink and driver into one compact and robust housing that meets globally recognised
safety standards. Its specially designed heat sink incorporates aesthetics and functionality to
ensure excellent reliability. Powered by LED technology, this luminaire delivers superior
performance and a longer lifetime, bringing area lighting to a whole new level.

Product data


Overall length: 500 mm
Overall width: 97 mm
Overall height: 498 mm
Color: Aluminum and gray
Ingress protection code: IP66
Mech. impact protection code: IK08
Ambient temperature range: -40 to +50 °C

Initial LED luminaire efficacy: 130 lm/W
Luminaire light beam spread: 40° x 80°

Net Weight (Piece): 7.999 kg
Picture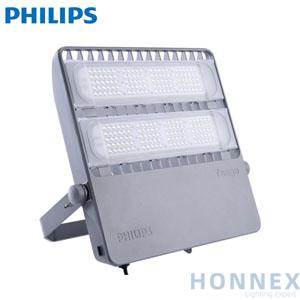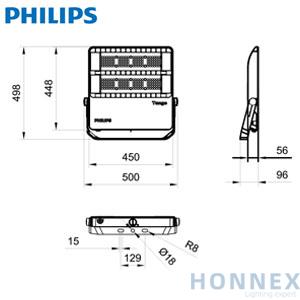 Remarks


PHILIPS BVP382 :
PHILIPS BVP382 LED156/CW 120W 220-240V AMB 911401614905
PHILIPS BVP382 LED156/CW 120W 220-240V SMB 911401614305
PHILIPS BVP382 LED156/CW 120W 220-240V SWB 911401614005
PHILIPS BVP382 LED156/NW 120W 220-240V AMB 911401614205
PHILIPS BVP382 LED156/NW 120W 220-240V SMB 911401614405
PHILIPS BVP382 LED156/NW 120W 220-240V SWB 911401614105
PHILIPS BVP382 LED156/WW 120W 220-240V AMB 911401613605
PHILIPS BVP382 LED156/WW 120W 220-240V SMB 911401613805
PHILIPS BVP382 LED156/WW 120W 220-240V SWB 911401613905
PHILIPS BVP382 LED195/CW 150W 220-240V AMB 911401614605
PHILIPS BVP382 LED195/CW 150W 220-240V SMB 911401615805
PHILIPS BVP382 LED195/CW 150W 220-240V SWB 911401615005
PHILIPS BVP382 LED195/NW 150W 220-240V AMB 911401614705
PHILIPS BVP382 LED195/NW 150W 220-240V SMB 911401615405
PHILIPS BVP382 LED195/NW 150W 220-240V SWB 911401614805
PHILIPS BVP382 LED195/WW 150W 220-240V AMB 911401615305
PHILIPS BVP382 LED195/WW 150W 220-240V SMB 911401615105
PHILIPS BVP382 LED195/WW 150W 220-240V SWB 911401615205
PHILIPS BVP382 LED260/CW 200W 220-240V AMB 911401617005
PHILIPS BVP382 LED260/CW 200W 220-240V SMB 911401615705
PHILIPS BVP382 LED260/CW 200W 220-240V SWB 911401616005
PHILIPS BVP382 LED260/NW 200W 220-240V AMB 911401615605
PHILIPS BVP382 LED260/NW 200W 220-240V SMB 911401614505
PHILIPS BVP382 LED260/NW 200W 220-240V SWB 911401616405

PHILIPS BVP382 LED260/WW 200W 220-240V AMB 911401615905
PHILIPS BVP382 LED260/WW 200W 220-240V SMB 911401616205
PHILIPS BVP382 LED260/WW 200W 220-240V SWB 911401615505