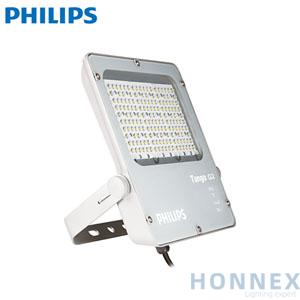 PHILIPS BVP281 LED50/CW 40W 220-240V AMB 911401661604
BVP281 LED50/CW 40W 220-240V AMB
Tango G2 LED is a general purpose LED flood lighting luminiare for various lighting
applications, such as area lighting, bill-board, façade, industry area, recreational sports
and other general applications. The Tango G2 LED flood light incorporates LED light source,
optical system, heat sink and driver into one compact housing. Its specially designed heat sink
incorporates aesthetics and functionality to ensure reliability and long lifetime. Tango G2 LED takes
advantage of LED technology which provides energy savings and a longer lifetime, bringing area lighting
into a new era.
Product data


Overall length: 412 mm
Overall width: 454 mm
Overall height: 60 mm
Color: Aluminum and gray
Ingress protection code: IP65 [ Dust penetration-protected, jetproof]
Mech. impact protection code: IK07 [ 2 J reinforced]
Ambient temperature range: -40 to +50 °C

Luminaire light beam spread: 100° x 30°
Net Weight (Piece): 5.999 kg
Picture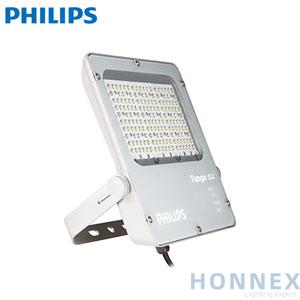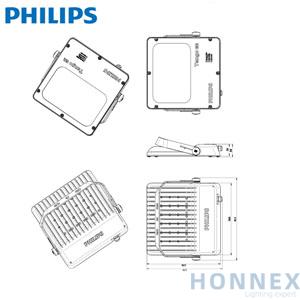 Remarks


PHILIPS BVP281 :
PHILIPS BVP281 LED50/CW 40W 220-240V AMB 911401661604
PHILIPS BVP281 LED50/CW 40W 220-240V SMB 911401661404
PHILIPS BVP281 LED50/CW 40W 220-240V SWB 911401660804

PHILIPS BVP281 LED50/NW 40W 220-240V AMB 911401661304
PHILIPS BVP281 LED50/NW 40W 220-240V SMB 911401661204
PHILIPS BVP281 LED50/NW 40W 220-240V SWB 911401661004
PHILIPS BVP281 LED50/WW 40W 220-240V AMB 911401661504
PHILIPS BVP281 LED50/WW 40W 220-240V SMB 911401661704
PHILIPS BVP281 LED101/CW 80W 220-240V AMB 911401660704
PHILIPS BVP281 LED101/CW 80W 220-240V SMB 911401661804
PHILIPS BVP281 LED101/CW 80W 220-240V SWB 911401660504
PHILIPS BVP281 LED101/NW 80W 220-240V AMB 911401661904
PHILIPS BVP281 LED101/NW 80W 220-240V SMB 911401662704
PHILIPS BVP281 LED101/NW 80W 220-240V SWB 911401662304
PHILIPS BVP281 LED101/WW 80W 220-240V AMB 911401661104
PHILIPS BVP281 LED101/WW 80W 220-240V SMB 911401660904
PHILIPS BVP281 LED151/CW 120W 220-240V AMB 911401662004
PHILIPS BVP281 LED151/CW 120W 220-240V SMB 911401662404
PHILIPS BVP281 LED151/CW 120W 220-240V SWB 911401662604

PHILIPS BVP281 LED151/NW 120W 220-240V AMB 911401662204
PHILIPS BVP281 LED151/NW 120W 220-240V SMB 911401662904
PHILIPS BVP281 LED151/NW 120W 220-240V SWB 911401662804
PHILIPS BVP281 LED151/WW 120W 220-240V AMB 911401662104
PHILIPS BVP281 LED151/WW 120W 220-240V SMB 911401662504