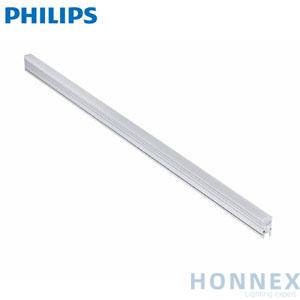 PHILIPS BCS340 48LED 27K 24V OC L100 8PX 911401778832
BCS340 48LED 27K 24V OC L100 8PX
UniBar is a surface mounted, exterior-rated and slim sized linear LED direct view
luminaire that is designed for façade and outdoor architectural lighting applications.;
The robust mechanical and unique optical design make it ideal for buildings facades,
media facades, bridges, overpasses and any application that requires a slim linear direct
view lighting solution.;Direct view spread lens, through wiring for end-to-end connection
and DMX control option available with up to 10 pixels (10IDs) to give architects and designers
the freedom to explore a wide range of concepts and design with no limitations.;Available in
white, monochromatic colors, RGB, RGBW and tunable white.
Product data


Overall length: 1000 mm
Overall width: 28 mm

Overall height: 65 mm

Color: Silver
Ingress protection code: IP66
Mech. impact protection code: IK08
Ambient temperature range: -40 to +50 °C
Initial LED luminaire efficacy: 47 lm/W
Net Weight (Piece): 0.749 kg
Picture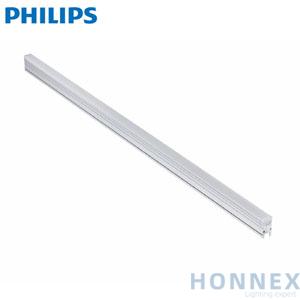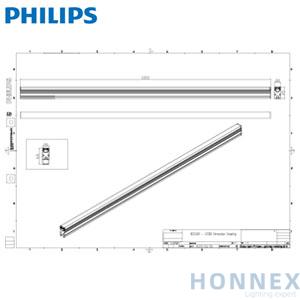 Remarks


PHILIPS BCS340 :
PHILIPS BCS340 48LED 27K 24V OC L100 8PX 911401778832
PHILIPS BCS340 48LED 27K 24V OC L100 911401778842
PHILIPS BCS340 48LED 30K 24V OC L100 8PX 911401778852
PHILIPS BCS340 48LED 30K 24V OC L100 911401778862
PHILIPS BCS340 48LED 40K 24V OC L100 8PX 911401778872
PHILIPS BCS340 48LED 40K 24V OC L100 911401778882
PHILIPS BCS340 48LED RGB 24V OC L100 8PX 911401778892
PHILIPS BCS340 96LED RGBWW 24V OC L100 8PX 911401778902
PHILIPS BCS340 96LED RGBNW 24V OC L100 8PX 911401778912
PHILIPS BCS340 24LED 27K 24V OC L50 4PX 911401778922
PHILIPS BCS340 24LED 27K 24V OC L50 911401778932
PHILIPS BCS340 24LED 30K 24V OC L50 4PX 911401778942
PHILIPS BCS340 24LED 30K 24V OC L50 911401778952
PHILIPS BCS340 24LED 40K 24V OC L50 4PX 911401778962
PHILIPS BCS340 24LED 40K 24V OC L50 911401778972
PHILIPS BCS340 24LED RGB 24V OC L50 4PX 911401778982
PHILIPS BCS340 48LED RGBWW 24V OC L50 4PX 911401778992
PHILIPS BCS340 48LED RGBNW 24V OC L50 4PX 911401779002
PHILIPS BCS340 12LED 27K 24V OC L30 2PX 911401779012
PHILIPS BCS340 12LED 27K 24V OC L30 911401779022
PHILIPS BCS340 12LED 30K 24V OC L30 2PX 911401779032
PHILIPS BCS340 12LED 30K 24V OC L30 911401779042
PHILIPS BCS340 12LED 40K 24V OC L30 2PX 911401779052
PHILIPS BCS340 12LED 40K 24V OC L30 911401779062
PHILIPS BCS340 12LED RGB 24V OC L30 2PX 911401779072
PHILIPS BCS340 24LED RGBWW 24V OC L30 2PX 911401779082
PHILIPS BCS340 24LED RGBNW 24V OC L30 2PX 911401779092