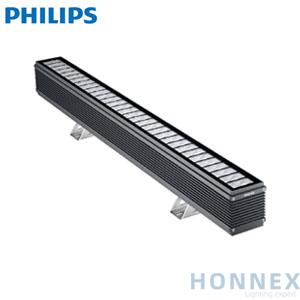 PHILIPS BCP385 24LED RGB 220V A1 L52 DMX 911401751662
BCP385 24LED RGB 220V A1 L52 DMX
UniStrip G4 is a surface mounted, exterior-rated LED luminaire that is designed for
façade and outdoor architectural lighting applications.;One family that fits all your needs,
wall washing, grazing and also linear flood lighting.;The robust mechanical and unique
optical designs make it ideal for illuminating buildings facades, bridges, overpasses and
any application that requires a linear lighting solution.;Available in white, monochromatic
colors, RGB, RGBW and tunable white and DMX control option available with up to 8 pixels
(8IDs) to give architects and designers the freedom to explore a wide range of concepts
and design with no limitations.
Product data


Overall length: 520 mm
Overall width: 88 mm

Overall height: 158 mm

Color: Dark gray
Ingress protection code: IP66
Mech. impact protection code: IK06
Ambient temperature range: -40 to +50 °C
Initial LED luminaire efficacy: 34 lm/W
Net Weight (Piece): 2.099 kg
Picture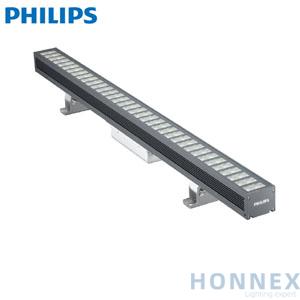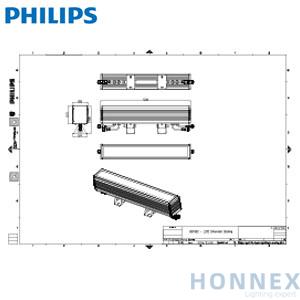 Remarks


PHILIPS BCP385 :
PHILIPS BCP385 24LED RGB 220V A1 L52 DMX 911401751662
PHILIPS BCP385 30LED RGB 220V A1 L52 DMX 911401751672
PHILIPS BCP385 6LED RGBNW 220V A2 L52 DMX 911401751682
PHILIPS BCP385 24LED 27K 220V 7 L52 911401751692
PHILIPS BCP385 24LED 27K 220V 7 L52 DMX 911401751702
PHILIPS BCP385 24LED 27K 220V A1 L52 911401751712
PHILIPS BCP385 24LED 27K 220V A1 L52 DMX 911401751722
PHILIPS BCP385 24LED 30K 220V 7 L52 911401751732
PHILIPS BCP385 24LED 30K 220V 7 L52 DMX 911401751742
PHILIPS BCP385 24LED 30K 220V A1 L52 911401751752
PHILIPS BCP385 24LED 30K 220V A1 L52 DMX 911401751762
PHILIPS BCP385 24LED 40K 220V 7 L52 911401751772
PHILIPS BCP385 24LED 40K 220V 7 L52 DMX 911401751782
PHILIPS BCP385 24LED 40K 220V A1 L52 911401751792
PHILIPS BCP385 24LED 40K 220V A1 L52 DMX 911401751802
PHILIPS BCP385 30LED 27K 220V 7 L52 911401751812
PHILIPS BCP385 30LED 27K 220V 7 L52 DMX 911401751822
PHILIPS BCP385 30LED 27K 220V A1 L52 911401751832
PHILIPS BCP385 30LED 27K 220V A1 L52 DMX 911401751842
PHILIPS BCP385 30LED 30K 220V 7 L52 911401751852
PHILIPS BCP385 30LED 30K 220V 7 L52 DMX 911401751862
PHILIPS BCP385 30LED 30K 220V A1 L52 911401751872
PHILIPS BCP385 30LED 30K 220V A1 L52 DMX 911401751882
PHILIPS BCP385 30LED 40K 220V 7 L52 911401751892
PHILIPS BCP385 30LED 40K 220V 7 L52 DMX 911401751902
PHILIPS BCP385 30LED 40K 220V A1 L52 911401751912
PHILIPS BCP385 30LED 40K 220V A1 L52 DMX 911401751922
PHILIPS BCP385 48LED 27K 220V 7 L100 911401751932
PHILIPS BCP385 48LED 27K 220V 7 L100 DMX 911401751942
PHILIPS BCP385 48LED 27K 220V A1 L100 911401751952
PHILIPS BCP385 48LED 27K 220V A1 L100 DMX 911401751962
PHILIPS BCP385 48LED 30K 220V 7 L100 911401751972
PHILIPS BCP385 48LED 30K 220V 7 L100 DMX 911401751982
PHILIPS BCP385 48LED 30K 220V A1 L100 911401751992
PHILIPS BCP385 48LED 30K 220V A1 L100 DMX 911401752002
PHILIPS BCP385 48LED 40K 220V 7 L100 911401752012
PHILIPS BCP385 48LED 40K 220V 7 L100 DMX 911401752022
PHILIPS BCP385 48LED 40K 220V A1 L100 911401752032
PHILIPS BCP385 48LED 40K 220V A1 L100 DMX 911401752042
PHILIPS BCP385 60LED 27K 220V 7 L100 911401752052
PHILIPS BCP385 60LED 27K 220V 7 L100 DMX 911401752062
PHILIPS BCP385 60LED 27K 220V A1 L100 911401752072
PHILIPS BCP385 60LED 27K 220V A1 L100 DMX 911401752082
PHILIPS BCP385 60LED 30K 220V 7 L100 911401752092
PHILIPS BCP385 60LED 30K 220V 7 L100 DMX 911401752102
PHILIPS BCP385 60LED 30K 220V A1 L100 911401752112
PHILIPS BCP385 60LED 30K 220V A1 L100 DMX 911401752122
PHILIPS BCP385 60LED 40K 220V 7 L100 911401752132
PHILIPS BCP385 60LED 40K 220V 7 L100 DMX 911401752142
PHILIPS BCP385 60LED 40K 220V A1 L100 911401752152
PHILIPS BCP385 60LED 40K 220V A1 L100 DMX 911401752162
PHILIPS BCP385 48LED RGB 220V A1 L100 DMX 911401752172
PHILIPS BCP385 60LED RGB 220V A1 L100 DMX 911401752182
PHILIPS BCP385 12LED RGBNW 220V A2 L100 DMX 911401752192